Full Biography And Net Worth Of Elon Musk
Full Biography And Net Worth Of Elon Musk
In recent times, the internet has been agog with news of the world's new richest man. Prior to his becoming the richest man, news about Tesla Motors and SpaceX dominated the social media sphere. Not so much, however, was mentioned of the brains behind all these, Elon Musk. The biography of Elon Musk is a story of doggedness, intelligence, tenacity and so much more.
Related: The Full Biography and net worth of Jeff Bezos
It is an interesting read and will certainly leave you awed. He is the Chief Executive Officer and Chief Technical Officer of SpaceX, Chief Executive Officer of Tesla Inc, founder of The Boring Company co-founder of Neuralink; and co-founder and initial co-chairman of OpenAI.
Birth, Early Life And Education
The biography of Elon Musk begins from his birth. He was born on the 28th of June 1971, in Pretoria, Transvaal, South Africa, and christened Elon Reeve Musk. His mother is Maye Musk was a model and dietitian, and was born in Saskatchewan, Canada.
She, however, was raised in South Africa. His father is Errol Musk, a South African electromechanical engineer, who is also a pilot, a sailor, and a consultant and property developer. Elon Musk was also raised in Pretoria before he moved to Canada.
He has two siblings, Kimbal, his younger brother, born in 1972, and was an early business partner of his and Tosca, his younger sister and CEO of Passionflix, the video streaming site. Elon Musk has a rich ancestry. His maternal grandfather was a Canadian, born in America and his paternal grandfather had British and Pennsylvania Dutch ancestry.
Related: The Full Biography and net worth of Aliko Dangote
Elon Musk lived with his father for a while in Pretoria after his parents got a divorce in 1980. He developed a love for computers and computing at age ten.
He attended Waterkloof House Preparatory School, Bryanston High School, and then graduated from Pretoria Boys High School. He attended the University of Pretoria for just five months before he relocated to Canada to attend Queens University. He was only shy of 18 at this time.
Two years later, he transferred to the University of Pennsylvania and bagged two degrees in Economics and Physics. In 1995, he moved to California. His aim was to begin a Ph.D. in Applied Physics and material sciences at Stanford University. He however dropped out after two days to pursue a career in business.
Related: The Full Biography and net worth of Ibukun Awosika
Personal Life
The biography of Elon Musk also covers his marriages. He was first married to  Justine Wilson in 2000. They met while they were students at Queens University, Ontario. Their first child died of Sudden Infant Death Syndrome.
They went on to have five sons- twins born in 2004 and triplets born in 2006. Elon Musk and Justine Wilson separated in 2008 and have shared custody of their sons.
Talulah Riley and Elon Musk got married in 2010. In January 2012, Musk revealed their relationship had ended. They however remarried in July 2013. In 2014, Musk filed for divorce again and was finalized in 2016.
It was revealed that Musk and Canadian musician Grimes, were dating on May 7, 2018. On the 8th of January, she announced she was pregnant, and on the 4th of May 2020, she birthed a son whom they named "X AE A-XII".
Elon Musk resides in Texas.
Net Worth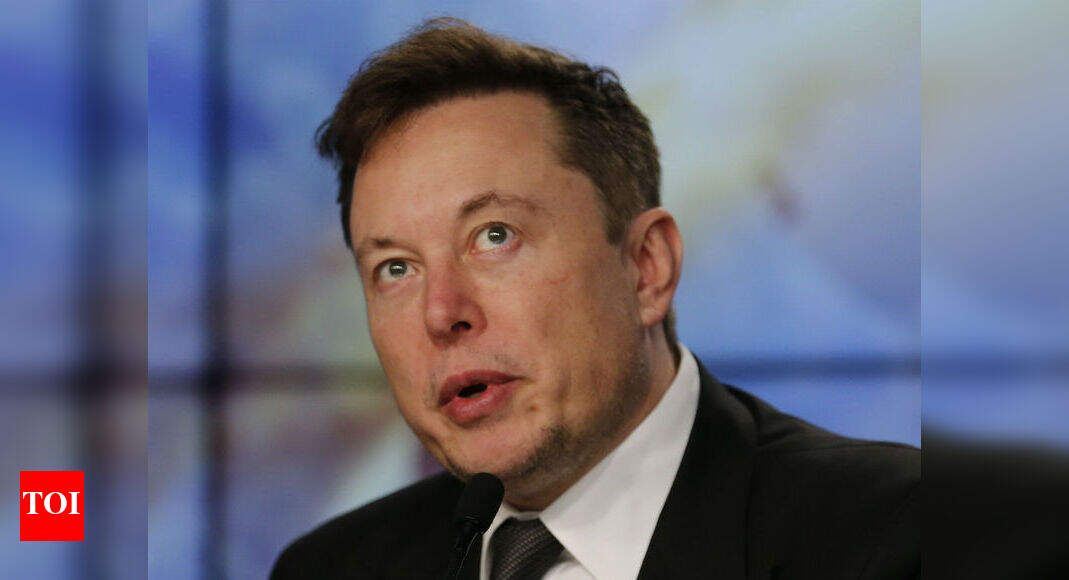 I will not be scratching the surface of the biography of Elon Musk without mentioning his net worth. He is currently estimated to be worth $190 billion. He is currently the richest man in the world. His sources of wealth are from his various companies.
Career
In the year 1995, Elon Musk alongside his brother, Kimbal and Greg Kouri started Zip2, a web software company. They began with money generated from Angel Investors. Their office was in a small building in Palo Alto.
Elon Musk revealed he could not afford an apartment building then and had to take showers at YMCA houses. Zip2 was responsible for developing and marketing an internet city guide for the newspaper publishing industry, with maps, directions, and yellow pages.
Related: The Full Biography and net worth of Mark Essien
The company grew and was eventually acquired by Comparison for $307 million in cash. This happened in February 1999. He had a 7% share of $22 million.
Elon Musk co-founded X.com in March 1999. It was an online financial service and e-mail payment company. He co-established it with $10 million from the sale of Zip2. The company grew and merged with Confanity, which had an arm called PayPal.
They focused on the PayPal sector and in 2001, it was renamed PayPal. PayPal was acquired by eBay for $1.5 billion in stock, in October 2000. Elon Musk received $165 million. Prior to its sale, Elon Musk, who was the largest shareholder in the company, owned 11.7% of PayPal's shares. In 2017, he acquired the domain name X.com, claiming sentimental value.
SpaceX was born after Elon Musk conceived Mars Oasis, which was an idea to launch a greenhouse on Mars. He realized that getting a rocket would cost a fortune and then using $100 million of his early fortune, Elon Musk founded Space Exploration Technologies Corporation, also known as SpaceX, in May 2002.
The company began working with NASA. Their aim was to make their rockets reusable. On the 22nd of December 2015, SpaceX landed the first stage of its Falcon 9 rocket, successfully back near the launch pad. This was the first time landing had been achieved by an orbital rocket.
SpaceX's goal is to reduce the cost of human spaceflight. In an interview in 2011, Elon Musk said he hopes to send humans to Mars' surface within 10–20 years. In Ashlee Vance's biography, Elon Musk stated categorically, that he hopes to establish a Mars colony by the year 2040, with a population of about 80,000 humans.
Knowing that Mars' atmosphere lacks oxygen, all transportation necessary will be electric, incorporating electric cars, electric trains, Hyperloop, electric aircraft, and so on.
Related: The Full Biography and net worth of Tunde Ednut
Tesla was not initially Elon Musk's idea. It was founded by Martin Eberhard and Marc Tarpenning in the year 2003. Elon Musk joined the board as Chairman, after the Series A round of funding in February 2004.
He became CEO and product architect in 2008 and still holds the positions till today. Tesla inc. are manufacturers of electric sports cars. They also sell electric power train systems. Some of their investors include Daimler and Toyota.
The biography of Elon Musk will not be complete without writing about his other involvements. He announced the creation of OpenAI, in December 2015. It is an artificial intelligence research company, that is not for profit.
He also co-founded Neuralink, which is a neurotechnology start-up company that has the aim and goal of integrating the human brain with artificial intelligence. He also started The Boring Company.
Other Engagements
Elon Musk is not entirely about work. He has featured in some other programs and movies like The Simpsons, Iron Man 2, South Park, Why Him, and much more. He had also garnered tons of awards for himself.
Related: The Full Biography and net worth of Obi Cubana
Conclusion
The biography of Elon Musk has given a glimpse into the life of this phenomenal man. It is open knowledge that he thinks beyond the now and has a burning desire to impact the world and not just make money.
Comments
comments
Elon Musk Overtakes Jeff Bezos To Become The World's Richest Person
What Are The 4 Types of Entrepreneurs?
When you know the different types of entrepreneurs, you will be able to decide which one you want to be and how to go about it or improve on it. The truth is that the world of entrepreneurship has been booming recently. With so many budding and well-established entrepreneurs out there. Entrepreneurship involves so much work and commitment. You must also possess certain skills if you want to be successful as an entrepreneur. Many individuals venture into this field just because they want to be their own boss but it is worth noting that entrepreneurship is much more than that.
Whether you are just starting out or you are already an entrepreneur, you need to know the kind of entrepreneur you are or you wish to be. If you feel stuck and not making much progress in your business, knowing the type of entrepreneur, you are can give you the clarity you need to move forward in your business.
The 4 Types of Entrepreneurs
This article explains the 4 major types of entrepreneurs we have.
The Hustler Entrepreneur
The Innovative Entrepreneur
The Imitative Entrepreneur
The Research Entrepreneur
(1) The Hustler Entrepreneur
These types of entrepreneurs are always goal-driven and very determined to achieve their very goals. They are the kind of entrepreneur that have not made it yet but eventually will. To start and grow a business successfully, one needs a lot of resilience. It can be a very difficult task especially if you do not have the necessary capital to start. You would also need to be very patient and able to see the big picture.
Hustlers don't seem to worry about the problems they encounter on the way, because they see them as stepping stones to greater things. They tend to start small and gradually work their way to the top, willing to do whatever it takes as they climb the ladder of success.
A hustler believes that hard work is more important than capital when starting a business. Their work ethic is simply off the charts, though they are prone to burn out due to intense work.
(2) The Innovative Entrepreneur
An innovative entrepreneur introduces new ideas into the system. They come up with new and better ways of doing things and them into a viable business. Discovering a new market, a new method of production, and eventually reorganizing the enterprise. Their major drive is to make life better and easier for people and in doing so they create a business around their innovative idea. Innovators always look for a way to make their products look unique in the eyes of customers and make their company stand out.
Although these types of entrepreneurs require a lot of capital to bring their innovative ideas to life and often experience resistance from shareholders. They also enjoy all the glory that comes with the success they achieve in the process of implementing their new ideas. They create the rules and often do not have to worry about competitors during the initial stage of establishing their business. With a strong belief in their new ideas, they tend to achieve success though it might take a while.
(3) The Imitative Entrepreneur
Unlike hustlers, imitators just copy certain business ideas and build their own from there. They also tend to improve on the business ideas by making the product better or just doing something else that the parent business is not doing. They combine both the qualities of an innovator and a hustler. Even though the idea is not originally their own, they are willing to work hard, make the business better, and rake in large profit from it. They are known to possess a lot of self-confidence and are very determined.
While some do this by modeling after someone else's business, others just copy everything exactly the same way. You see them use the same website, same theme, business cards, and even similar logos. This might seem like an easy way out, instead of thinking of their own original idea. But copy cats are always faced with the problem of competition and being compared to their parent business. Modeling is a better way, in which you figure out what works and apply it in relevance to your business.
(4) The Research Entrepreneur
Preparedness is key to these types of entrepreneurs. So, they spend a lot of time gathering all the needed information about any business they want to start. They look at every possible scenario, challenges they may encounter, and the strategies they would use to start the business.
With adequate preparation, they believe failure is not an option since they would have already looked at every possible pitfall likely to be encountered in the business. They would make sure they fully understand all that the business is about before even launching it, this makes them spend a lot of time in the decision-making process.
While it is a good approach to have a good deal of the business and financial plan of a business figured out, a researcher might be stuck in the decision-making stage for a long time and eventually end up not making it to the implementation state.
Conclusion
From the list above, have you been able to figure out the type of entrepreneur you are? Entrepreneurship requires hard-work no matter the type of entrepreneur you are. Whether you imitate or innovate, you still need to do a ton of work to make your business stand out and achieve notable success in any field you choose. Leverage the freedom that comes with being an entrepreneur and find out what works for you. List out your goals for your business and strive to reach them.
Comments
comments
7 Steps To Becoming An Entrepreneur
Entrepreneurship is being glamorized these days and it seems everyone wants to go into it to rake in some profits for themselves. It is worthy to note that for every successful entrepreneur, there are many others who failed in the venture. This is to show that becoming an entrepreneur is not an easy task and if you are not willing to do the intense work it involves, you should probably try not to get into it.
Before you decide to be an entrepreneur, you have to make research on what it entails. You have to find out what makes an entrepreneur and what doesn't. You should not just go into entrepreneurship simply because you want to become your own boss and don't want to answer to anyone. No, that won't help you in the long run. Make sure you are clear on what it takes to become a successful entrepreneur.
After figuring out if you really want to be an entrepreneur and concluding on becoming an entrepreneur, you should proceed to take certain steps needed to become a successful entrepreneur.
This article lists the 7 important steps you have to follow in becoming an Entrepreneur.
The 7 Important Steps To Becoming An Entrepreneur
Step 1: Pick a Niche
Before starting out as an entrepreneur, you should take your time to pick a particular niche that you are interested in and wish to focus on. Focusing on just one niche would make the business operation smoother. Also, it will help you to spend lesser time to learn all about the business compared to if you wanted to learn everything wholesale. You cannot afford to go into entrepreneurship blindly, trying to get your hands on whatever looks appealing. If you do this, you could fail woefully. So, focus on just one niche at a time.
The business you choose should be in line with your personal interests and goals. You would spend a lot of time working on this business. So, from the set go, settle for something that you really enjoy doing. It might be something you have worked on before or just a hobby you wish to expand into a viable business.
Step 2: Acquire and/or Update Your Skills, Get Help Where Necessary, Outsource
When you are just starting out as an entrepreneur, you need to be honest with yourself. Make a list of the skills you possess and those you do not have but know that you need or will need to enhance the business operations and success. If you lack some of these skills, you can get a friend or family to help you with this. This activity will give you a clear picture of your strengths and weakness. It gives you a better understanding of where you need to improve and also where you need to ask for other people's help.
Many budding entrepreneurs make the mistake of wanting to do everything by themselves. They may do this simply to lower startup costs or because they feel they do not need help. Various aspect of your business needs different kinds of expertise some of which you may know little or nothing about. Be prepared to ask for help, you might have to pay to get professionals to work on certain things sometimes.
Step 3: Research Further About the Business (i.e., Conduct a Feasibility Study)
Even after you have chosen your preferred niche, there is still the need to make a lot of researched on the business before launching it. You should find out how profitable the niche you intend to go into is, who your competitors are, etc. For instance, let's say you want to start a salon business in your neighborhood. You should conduct deep research otherwise known as a feasibility study to find out things like:
How many saloons are in that area?
How are those saloons fairing?
Are the available salons making a substantial profit or are they just struggling to get by?
Would the locals be able to afford your services?
Is this a suitable location for this kind of business?
You need to find the answers to these and many other questions before proceeding to start a business. They would be of tremendous help in figuring out exactly how you should run your business -what to do and what not to do.
Step 4 – Draft a Business Plan
There is a saying that goes thus, "we plan to fail when we fail to plan". A business plan is simply a must- have for every aspiring entrepreneur. Even if you are in the business already and you do not have a plan, you really should get one. A business plan clearly shows you in detail the various aspects of your business. It highlights your goals and the steps you need to take in accomplishing them. It does not have to be perfect at first, but it needs to be good at least.
There are various business plan templates online that can help you with this crucial task. Some are paid while there are also some free ones out there. If you have a good grasp of what your business is all about, then go ahead and deploy a template to draft out your own business plan. Also, there are various experts out there who specialize in helping people develop an adequate business plan for their business ideas. You can seek them out if you feel you need to.
Step 5: Acquire More Knowledge (i.e., Upgrade on What You Know)
It is true that you do not necessarily need a college degree to run a successful business. This does not mean you should not seek out knowledge that is relevant to the type of business you are involved in. Every business has a particular way to run it its own principle(s) and techniques which one has to follow to achieve success.
You do not have to go back to college to acquire this knowledge. There are short courses on business management which you can easily acquire from a business school near you. Besides, you can enroll on online certification courses in entrepreneurship that offer immense value. A course that relates to your business would give you better insights on how to run it effectively. For instance, if you are into the food business and you own a restaurant, you can take courses on how to make some foreign cuisines to add to your expertise.
Step 6 – Put the Right Team Together
You cannot possibly do all the work alone. Getting the right team to work with you is essential on your path to becoming a successful entrepreneur. Make sure you hire like-minded people. People who see and help you to harness the vision you have for your business. They do not have to be experts in what they do. But you must be certain that they have a good work ethic and are ready to learn new things. Also, you should make sure that their values and personalities resonate with the ones you want for your company. A good team would propel the business on a faster track to achieving the set goals.
Step 7 – Sell Your business Idea, Make Money
Even with all the planning and knowledge acquired, if you do not know how to sell your idea (product) to your customer for cash, it is no good. The business world has changed tremendously over the years and there is probably competition everywhere you turn. Knowing how to sell your product properly is a game-changer for you in the industry. One way of doing this is to find something unique to the product you are selling. Sell this unique property by attributing the value it gives to the customers.
Comments
comments