Flutterwave Profile: About, Team, Contacts, size, Funding, and Salaries
Flutterwave Fintech Company Profile: About, Team, Contacts, size, Funding, and Salaries
About
Flutterwave is a fintech company that is used to make payments in Nigeria.
Flutterwave fintech company was founded by Iyinoluwa Abolaji and co-founded by Olugbenga Agboola in collaboration with other people which includes banking veterans from Standard Bank, Google wallet, Andela, and PayPal.
Related: All You Need to Know About The Dangote Group
Iyinoluwa Abolaji was motivated to start Flutterwave after he noticed that the unstable e-commerce market was partly due to challenges in payment experienced in Africa. This was noticed when he was still in Andela, his former company. From his experience, he noticed that sending money to a local bank took up to a week in Nigeria. This culminated in the idea for Flutterwave. He believed that solving payment challenges for merchant partners across the country.
Team
Flutterwave has about a hundred and sixteen (116) people in its employ. They make up the team ready to take Flutterwave to the next level. Some of the members of the management team include Opeoluwa Abitoye (Vertical Head and Relationship Manager), Etimbuk Bassey (Vertical Head, Remittance), Omolaja Abubakar (Senior DevOps Engineer). Some other members of the team also include Kanyinsola Adepoju ( Retail and expansion), Onyedikachim Nwankwo (Lead Product Marketing), Opeyemi Fowler (Vertical Lead, Growth) and a host of others.
Contacts
Flutterwave Nigeria office is located at Plot 8 Providence Street, Lekki Phase 1
23402 Lagos, Nigeria.
They can be reached on phone using this number +234 1 280 9030.
Flutterwave email address is hi@flutterwavego.com.
You can click here to get access to their website.
Salary scale
The salary earned in Flutterwave is earned in accordance with the minimum wage in Nigeria.
Entry-level graduate workers earn between 80,000 to 90,000 after tax.
Related: All You need to About Paystack Fintech Company
Interns earn between 30,000-40,000 a month after tax. This excludes all allowances.
The average salary earned on Flutterwave company is 148,575 Naira. Roles like that of the Computer Engineer are paid 263,000 Naira each month. The role of the customer representative earns about 35,000 Naira each month.
Size and milestones
The Flutterwave fintech company has made giant strides in the world of fintech.
Since Flutterwave began operation in 2016, it has processed and aided over $2.5 billion in payments, they have also made transactions of up to 100 million. Flutterwave has partnered with over 50 banks in Africa. They have been able to raise over $20 million in investments and have over 1,200 developers, helping to build and maintain the platform.
In 2017, they launched a payment product called Rave. Rave functions by opening up more opportunities for businesses. It does this by allowing them to accept a range of payment methods from all over the world. It offers e-commerce, recurring bill, and much more. Examples of companies that use Rave include Arikair, MarketHub, Flywire, Uber, Booking.com etcetera.
In 2019, Flutterwave fintech company collaborated with Visa to launch a consumer payment product called Getbarter. This system allows personal and small payments to be made within the confines of a particular country, or across African borders.
This payment product allows Flutterwave to scale as a payment platform using Rave, especially for big businesses. It also creates an avenue for individuals using multiple financial platforms to make payments across the payment platform and within the country. It also helps one shop online.
In July 2019, Alibaba, an e-commerce giant in China, entered into a partnership with Flutterwave. This made it possible for merchants in Nigeria and Africa at large, to receive payment from Alipay users.
On the 15th of August 2019, Afropolitan group, an entertainment and lifestyle company entered into a partnership with Flutterwave fintech company.
21st of January 2020 saw WorldPay, a payment facilitator, enter into a partnership with Flutterwave. The aim of this new business relationship is to create more efficient payment platforms and services across Africa. Flutterwave is the first African fintech company to partner with WorldPay.
Flutterwave grossed $2.6 billion in transaction value by the end of 2018.
More milestones
Flutterwave has experienced massive growth since it began. They recently acquired a license from the Bank of Rwanda, bringing Flutterwave to the Rwandan market, and accessible to the populace. The company has also expanded into countries like Kenya and Uganda.  Flutterwave has also begun operations in countries like Ghana, South Africa, and Nigeria.
Google Nigeria, entered into a partnership with Flutterwave and has the aim of starting business clinics across Nigeria. They plan to train about 5,000 business merchants across the country to acquire skills and tools to leverage the web for growth.
Related: Start Saving With Sumotrust
Flutterwave customers
Some popular customers of Flutterwave include TransferWise, Wakanow, Air peace, and much more. Flutterwave also serves some other popular payment service providers in Nigeria like Paywithcapture, AmplifyPay, Paystack, and much more. They also serve some financial institutions like Access bank, Page Microfinance, etc. Uber also utilizes Flutterwave.
Flutterwave supports several payment methods which include but not limited to Visa, Verve, American Express, MasterCard, ApplePay, Android pay, and a host of others.
Funding and Investments.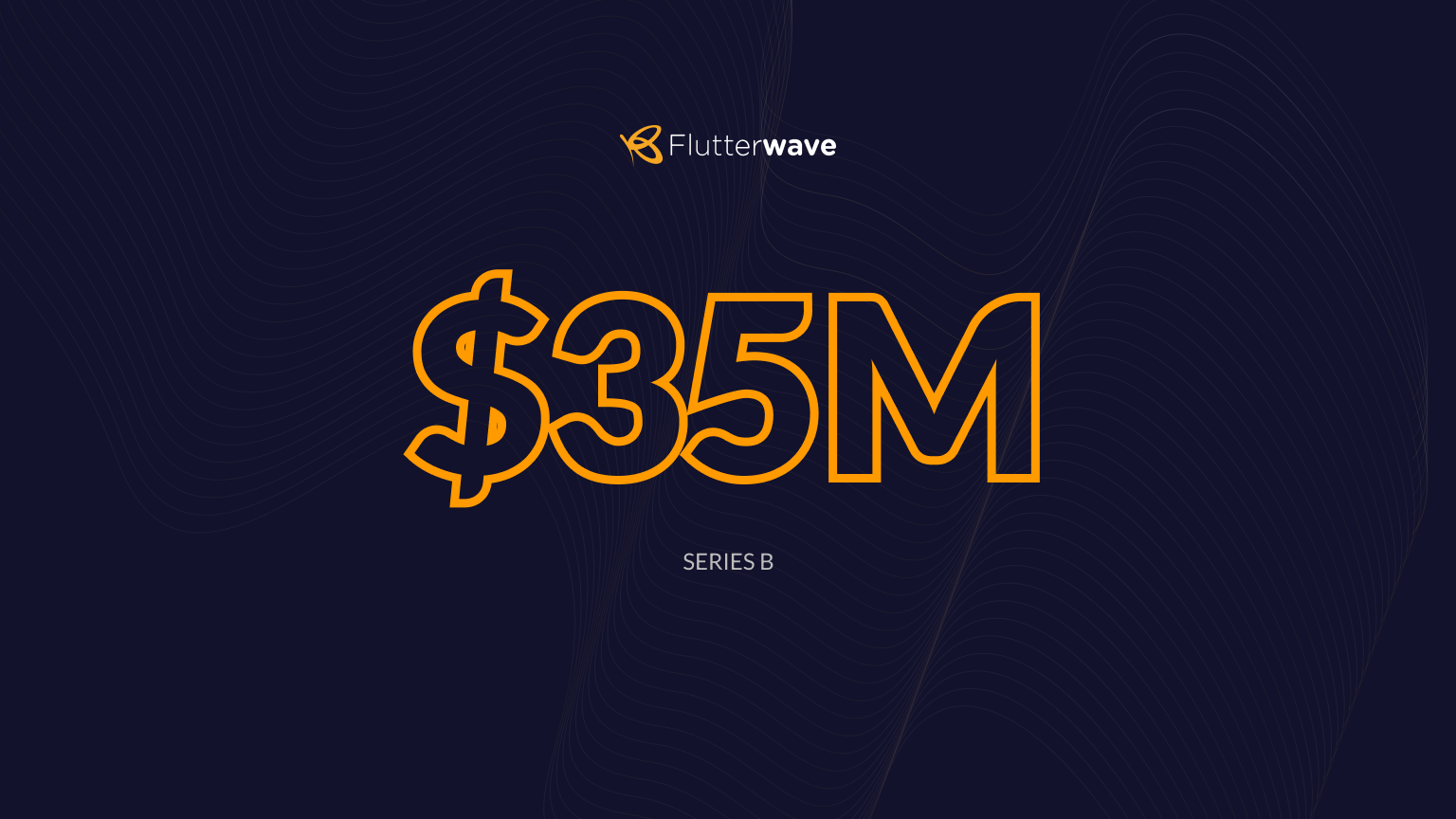 Flutterwave fintech company has made quite a number of investments. In 2017, they raised $10 million in a series A funding round. Key investors at that time included Green visor and Greycroft partners. In 2018, the extension of the series A funding round was concluded.
Popular companies that participated include Raba Capital, MasterCard, Fintech Collective, 4DX ventures, and a host of other companies. A total of $20 million was raised. After these fundings, Green Visor Capital chairman and the former CEO of Visa joined Flutterwave's board of directors.
Flutterwave Fintech company announced on 21st January 2020 that they have raised up to $35 million from strategic investors.
Since the inception of the company in 2016 till now, they have raised a total of $55.4 million.
Awards
Flutterwave received the 'Best Payments Company' award held in Ghana during the e-commerce Awards ceremony in 2018.
In 2019, Flutterwave was named as Ycombinator's Most Valuable company from Africa.
In 2019, Fast Company listed Flutterwave among 10 innovative companies in Africa.
Flutterwave won the Changing Africa Award at the 2019 AppsAfrica Innovation Awards held in Cape Town, South Africa. This happened on the 11th of November 2019.
Flutterwave was nominated for the Africa CEO Forum Awards that held at the Sofitel Abidjan Hotel Ivoire in Côte d'Ivoire from March 9 to March 10, 2020. The awards recognize Africa's most successful companies and Flutterwave was nominated under the category of Disrupter of the Year.
Comments
comments
NairaMetrics Profile – About, Employees, Net Worth, Founders, And All You Need To Know
Sahara Reporters Profile – About, Employees, Net Worth, Founders, And All You Need To Know
UBA Company Profile – About, Employees, Net Worth, Founders, And All You Need To Know