Flutterwave Profile: About, Team, Contacts, size, Funding, and Salaries
Flutterwave Fintech Company Profile: About, Team, Contacts, size, Funding, and Salaries
About
Flutterwave is a fintech company that is used to make payments in Nigeria.
Flutterwave fintech company was founded by Iyinoluwa Abolaji and co-founded by Olugbenga Agboola in collaboration with other people which includes banking veterans from Standard Bank, Google wallet, Andela, and PayPal.
Related: All You Need to Know About The Dangote Group
Iyinoluwa Abolaji was motivated to start Flutterwave after he noticed that the unstable e-commerce market was partly due to challenges in payment experienced in Africa. This was noticed when he was still in Andela, his former company. From his experience, he noticed that sending money to a local bank took up to a week in Nigeria. This culminated in the idea for Flutterwave. He believed that solving payment challenges for merchant partners across the country.
Team
Flutterwave has about a hundred and sixteen (116) people in its employ. They make up the team ready to take Flutterwave to the next level. Some of the members of the management team include Opeoluwa Abitoye (Vertical Head and Relationship Manager), Etimbuk Bassey (Vertical Head, Remittance), Omolaja Abubakar (Senior DevOps Engineer). Some other members of the team also include Kanyinsola Adepoju ( Retail and expansion), Onyedikachim Nwankwo (Lead Product Marketing), Opeyemi Fowler (Vertical Lead, Growth) and a host of others.
Contacts
Flutterwave Nigeria office is located at Plot 8 Providence Street, Lekki Phase 1
23402 Lagos, Nigeria.
They can be reached on phone using this number +234 1 280 9030.
Flutterwave email address is hi@flutterwavego.com.
You can click here to get access to their website.
Salary scale
The salary earned in Flutterwave is earned in accordance with the minimum wage in Nigeria.
Entry-level graduate workers earn between 80,000 to 90,000 after tax.
Related: All You need to About Paystack Fintech Company
Interns earn between 30,000-40,000 a month after tax. This excludes all allowances.
The average salary earned on Flutterwave company is 148,575 Naira. Roles like that of the Computer Engineer are paid 263,000 Naira each month. The role of the customer representative earns about 35,000 Naira each month.
Size and milestones
The Flutterwave fintech company has made giant strides in the world of fintech.
Since Flutterwave began operation in 2016, it has processed and aided over $2.5 billion in payments, they have also made transactions of up to 100 million. Flutterwave has partnered with over 50 banks in Africa. They have been able to raise over $20 million in investments and have over 1,200 developers, helping to build and maintain the platform.
In 2017, they launched a payment product called Rave. Rave functions by opening up more opportunities for businesses. It does this by allowing them to accept a range of payment methods from all over the world. It offers e-commerce, recurring bill, and much more. Examples of companies that use Rave include Arikair, MarketHub, Flywire, Uber, Booking.com etcetera.
In 2019, Flutterwave fintech company collaborated with Visa to launch a consumer payment product called Getbarter. This system allows personal and small payments to be made within the confines of a particular country, or across African borders.
This payment product allows Flutterwave to scale as a payment platform using Rave, especially for big businesses. It also creates an avenue for individuals using multiple financial platforms to make payments across the payment platform and within the country. It also helps one shop online.
In July 2019, Alibaba, an e-commerce giant in China, entered into a partnership with Flutterwave. This made it possible for merchants in Nigeria and Africa at large, to receive payment from Alipay users.
On the 15th of August 2019, Afropolitan group, an entertainment and lifestyle company entered into a partnership with Flutterwave fintech company.
21st of January 2020 saw WorldPay, a payment facilitator, enter into a partnership with Flutterwave. The aim of this new business relationship is to create more efficient payment platforms and services across Africa. Flutterwave is the first African fintech company to partner with WorldPay.
Flutterwave grossed $2.6 billion in transaction value by the end of 2018.
More milestones
Flutterwave has experienced massive growth since it began. They recently acquired a license from the Bank of Rwanda, bringing Flutterwave to the Rwandan market, and accessible to the populace. The company has also expanded into countries like Kenya and Uganda.  Flutterwave has also begun operations in countries like Ghana, South Africa, and Nigeria.
Google Nigeria, entered into a partnership with Flutterwave and has the aim of starting business clinics across Nigeria. They plan to train about 5,000 business merchants across the country to acquire skills and tools to leverage the web for growth.
Related: Start Saving With Sumotrust
Flutterwave customers
Some popular customers of Flutterwave include TransferWise, Wakanow, Air peace, and much more. Flutterwave also serves some other popular payment service providers in Nigeria like Paywithcapture, AmplifyPay, Paystack, and much more. They also serve some financial institutions like Access bank, Page Microfinance, etc. Uber also utilizes Flutterwave.
Flutterwave supports several payment methods which include but not limited to Visa, Verve, American Express, MasterCard, ApplePay, Android pay, and a host of others.
Funding and Investments.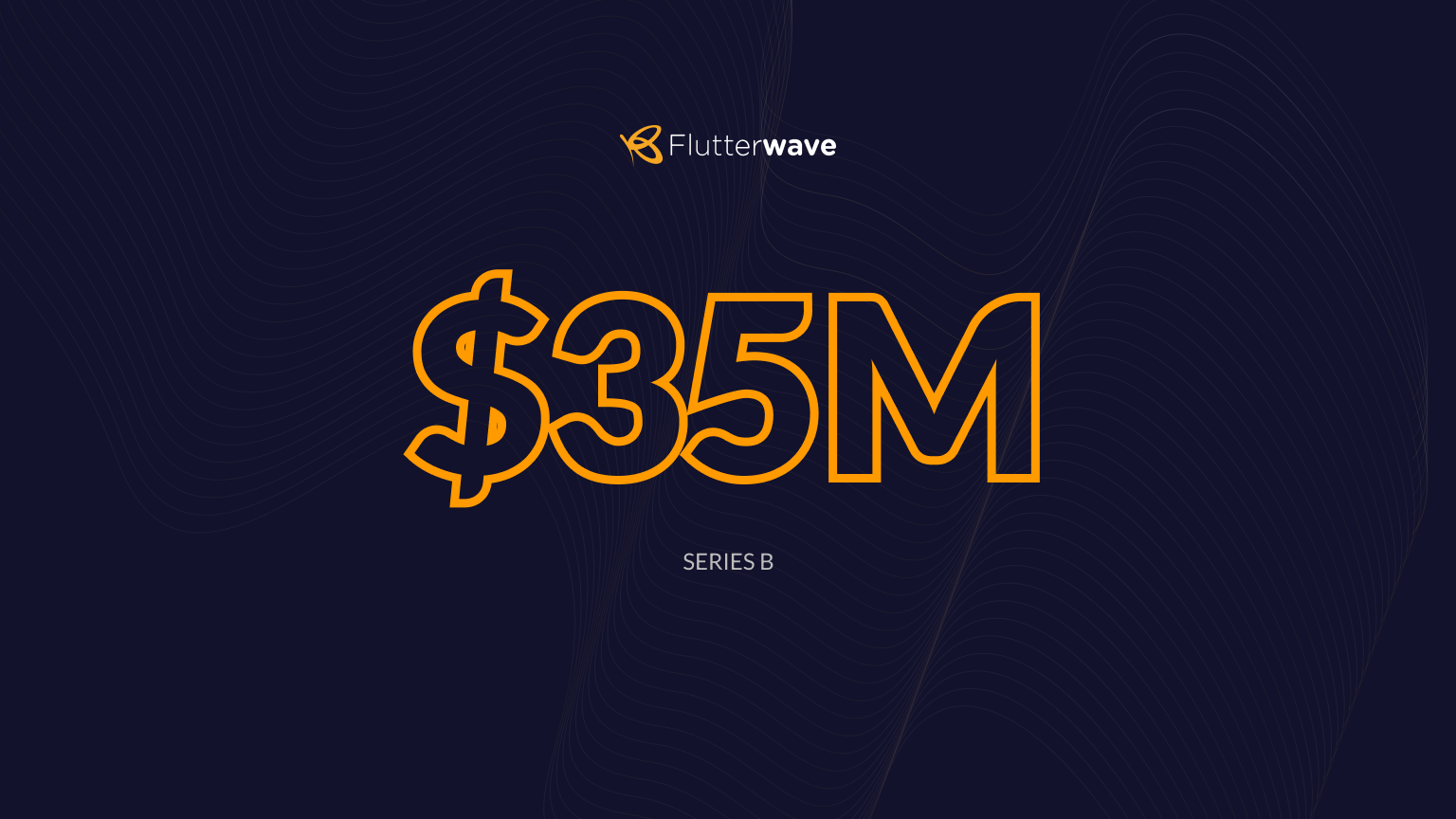 Flutterwave fintech company has made quite a number of investments. In 2017, they raised $10 million in a series A funding round. Key investors at that time included Green visor and Greycroft partners. In 2018, the extension of the series A funding round was concluded.
Popular companies that participated include Raba Capital, MasterCard, Fintech Collective, 4DX ventures, and a host of other companies. A total of $20 million was raised. After these fundings, Green Visor Capital chairman and the former CEO of Visa joined Flutterwave's board of directors.
Flutterwave Fintech company announced on 21st January 2020 that they have raised up to $35 million from strategic investors.
Since the inception of the company in 2016 till now, they have raised a total of $55.4 million.
Awards
Flutterwave received the 'Best Payments Company' award held in Ghana during the e-commerce Awards ceremony in 2018.
In 2019, Flutterwave was named as Ycombinator's Most Valuable company from Africa.
In 2019, Fast Company listed Flutterwave among 10 innovative companies in Africa.
Flutterwave won the Changing Africa Award at the 2019 AppsAfrica Innovation Awards held in Cape Town, South Africa. This happened on the 11th of November 2019.
Flutterwave was nominated for the Africa CEO Forum Awards that held at the Sofitel Abidjan Hotel Ivoire in Côte d'Ivoire from March 9 to March 10, 2020. The awards recognize Africa's most successful companies and Flutterwave was nominated under the category of Disrupter of the Year.
Comments
comments
Paystack Profile: About, Team, Contacts, size, Funding, and Salaries
GLO Tariff Plan 2020 – List of Tariff Plans and Price
More popularly known as GLO, Globacom Limited is a multinational telecommunications company that is based in Nigeria, and was founded by Mike Adenuga.
Though they were established on the 29th of August 2003, Globacom Limited has set a record in Nigeria among telecommunication companies for being the first to build what they call the Glo-1. Acquired from the United Kingdom, Glo-1 are high capacity, submarine fiber optic cables, which are worth $800 million.
GLO acquired more than 44 million subscribers by 2018, making them the second largest Nigerian network operator. Apart from the fact that they employ more than 3,500 people from all around the world, GLO has also established itself as one of the best service providers for calling, and browsing in Nigeria.
The calling and browsing rates on GLO are very cheap, due to the various GLO tariff plans available. And it is very easy for any GLO subscriber to access, or opt into any of them.
There is also special call service available on GLO, which allows GLO subscribers to have access to cheap call rates. Below are some of the available GLO tariff plans:
GLO BUMPA
With a recharge of either 100 Naira or above, the GLO Bumpa tariff plan offers its subscribers a 200% bonus with each recharge.
As such, if you recharge 200 Naira on the GLO Bumpa plan, you get a value of 600 Naira, and if you recharge 300 Naira, you get 900 Naira. And this bonus can be used for a variety of things like browsing the net, sending text messages, or making calls to any other network.
The GLO Bumpa plan features free night calls, a bonus validity of 30 days, with no rental fees attached. GLO prepaid subscribers, and all those who port into the GLO network are free to use this plan.
The 200% bonus on the GLO Bumpa plan is available to the GLO Subscriber as long as he keeps recharging his phone. To join this plan, dial *100*10#, and you can also dial *122*2# to check your GLO Bumpa bonus.
GLO BOUNCE
Offering free migration for all GLO subscribers, with calls at a discounted 5 Kobo per second, and text messages at a rate of 3 Naira per SMS, GLO Bounce is one of the best tariff plans that GLO has to offer.
GLO Bounce subscribers get to enjoy a call rate of 10 Kobo per second to other networks in Nigeria. They also get 12am to 5am free night calls after using 30 Naira during the day, and free Facebook browsing. On each recharge of 200 Naira, they also receive 30MB free data.
A campus rate of 5 Kobo per second is available for all GLO Bounce subscribers in all Nigerian tertiary institutions. Dial *170*4# to migrate to the GLO Bounce plan, or *170*9# for the campus zone plan.
Important: Looking for a Job/Employment? Apply for Globacom Recruitment 2020.
GLO FREE TOMORROW
A 'free tomorrow' as implied from the name, the GLO Free Tomorrow plan gives a subscriber twice the value of what he spent for his calls, SMS, and internet browsing on the previous day. This means he gets today, 2X what he spent yesterday.
This free credit can also be used to browse, or call any other network. Dial *300# to join the GLO Free Tomorrow plan.
GLO GBAM
Available to both new and old prepaid GLO users, the GLO Gbam tariff plan allows any GLO user to add, and call 5 special Glo numbers at a much cheaper rate than they normally would.
This tariff plan has an on-net call rate of 15 Kobo per second, an off-net call rate of 15 Kobo per second, plus an on-net and off-net SMS rate of 4 Naira per SMS. GLO Gbam subscribers can send text messages to international numbers for just 10 Naira for each SMS. This plan also offers its subscribers 5MB for browsing, which has a 24-hour validity.
Migrating to GLO Gbam as a GLO subscriber is simple, you just need *100*5*1# on your mobile phone. To register the 5 special numbers, you just dial *100*1* New Number#. While *101*2* existing Special No*New Special No# is used to change one of the numbers you already have registered to a different one.
GLO INFINITO
Known to be one of GLO's best tariff plans, GLO Infinito allows its subscribers a special call rate of 22 Kobo per second. This prepaid plan offers this with no hidden rentals, or charges attached.
This tariff plan would be more useful to business owners since it allows them to have up to 10 numbers as family and friends numbers. And calls to the family and friends numbers goes for 11 Kobo per second. Dial *100*9*2# to migrate to GLO Infinito, and *101*1*number# to add a special number to the family and friends list.
GLO YAKATA
Exclusive to new GLO subscribers, the GLO Yakata tariff plan is another awesome plan from GLO, and offers GLO subscribers some rather remarkable call, and data benefits.
GLO subscribers on the GLO Yakata tariff plan enjoy 6 gigabytes of data, which has a validity of 6 months, as well as 2200 Naira for voice calls, every time they recharge 100 Naira.
Some of the benefits of GLO Yakata are:
The call benefits enjoyed by the customers allows them to call any network, and they get more benefits with each bigger recharge.
The first 200 Naira recharge of every month gives the customer a data bonus that is 2.5 times greater than the normal GLO Yakata bonus. And if the recharge is more than 200 Naira, the data bonus increases proportionally as well.
The GLO Yakata data bonus is only available to the customer on the first recharge of each month, and for the first six months since he activated the line only.
And the bonus itself has a seven-day validity.
Important: Learn How Internet works and the roles of the different Internet companies in Nigeria here
GLO JOLLIFIC8
The Glo Jollific8 is another tariff plan that is exclusive for new prepaid customers. And this time, the plan gives each subscriber 8X more value on each recharge they make on their mobile phone.
To enjoy the benefits of this plan, the GLO subscribers need to recharge their GLO line with either 100 Naira, or bigger than that. Apart from the 800% bonus on every recharge, subscribers also get free gifting data that can be shared to other GLO users, and a call bonus, which can be used to call all networks in Nigeria.
Read the breakdown below to understand how much voice, and data bonuses you stand to gain on each recharge.
N100 recharge gives N800 + 10MB (N50) = N850
N200 recharge gives N1,600 + 25MB (N100) = N1,700
N500 recharge gives N4,000 + 50MB (N200) = N4,200
N1,000 recharge gives N8,000 + 100MB (N400) = N8,400
N5,000 recharge gives N40,000 + 500MB (N2,000) = N42,000
GLO JUMBO SIM
One of the few plans that is available to both new and existing GLO subscribers, the GLO Jumbo Sim tariff plan is a prepaid plan that offers a preloaded credit of 200,000 Naira to both the new and existing subscribers, which can be used to send text messages, make calls, and even browse. But these benefits are only available after they have recharged their GLO lines with a certain amount of credit.
But this data, and voice bonus is only available for 14 days after the GLO subscriber has unlocked it, and before the customer unlocks it, it is valid for only 6 months, after which it expires. Dial *224# to migrate to the GLO Jumbo Sim tariff plan.
To check your locked data bonus, dial #122*24#, and dial #122*23# to check the unlocked bonus.
Comments
comments
Airtel Family and Friends 2020
Today, I am sharing this piece with you on Airtel Family and Friends. However, before I get into the details, let me give you a little run-through of the Airtel Nigeria company.
Airtel Nigeria is one of the most popular network providers within the confines of Nigeria. The reason for the popularity of Airtel is mostly because of its pocket-friendly data and call rates, amongst other interesting features.
These interesting features actually is what has endeared many Nigerians to this network. One of such feature that we will be looking at today in a more in-depth way is the family and friend feature of Airtel.
But before we go fully into this, lets first establish the meaning of the term Airtel Family and Friends, so that we wouldn't commit the fallacy of ambiguity.
Airtel Family And Friends 2020 – An Overview
Airtel Family and Friends is a duty administration that is accessible to all Airtel prepaid customers. It's a help that is intended to definitely diminish the general expense of calling your family and friends and family, so you can enjoy more talk time with those people that are so dear to you, hence fabricating a better relationship.
Be that as it may, the numbers you can call at this marked down value is constrained to the numbers you have in your Family and Friends list. keep perusing.
I am vividly aware of the fact that most people, not to talk about knowing the Airtel family and friends code in 2019.
Airtel Jobs/Recruitment: Would you like to work with Airtel Nigeria? If yes, check out this latest Airtel recruitment offer.
How Do Family and Friends Work on Airtel?
Having used this service for some years and being in the field of technology, I have come to the full understanding that out of the number numbers of Family And Friends (FAF) you wish to add on your list, Airtel will just allow you to add 5 people for free and the rest of the people want to add will cost N50 per number added.
I may advise you to only to your FAFS list the numbers you usually call. A person like me, I add only my fiance, aunt, and dad which I do call frequently.
You can add your spouse, customers or family relation numbers. this is only if you do call these persons more often.
Airtel Family and Friends 2020 Code
If you are using airtel network on phone and you are searching for the airtel family and friend (FAF) code, then check below for the airtel FAF code as listed here;
The code for adding a number to your family and friends list is *311*2*number#. Assuming your mother is using airtel network and you want to add her to your list (let's assume her number is 08133772290) Then you have to dial *311*2*08133772290#. You will instantly receive a message which confirms the successfully adding of the number.
NOTE: Only five (5) numbers are to be added at a time
How to Add a Number on Airtel Family And Friends
Do you want to add a number to Airtel Family and Friends 2020? Then you will need the airtel faf activation code. It's easy! just dial the following codes *311*2*NUMBER# example, if you want to register 08133772290 to your family and friends list, simply dial * 311*2*08133772290#.
On completing this action, Airtel will send you a message that the number was successfully added to your Family and Friends list. Henceforth, you can be making calls at highly reduced rates to the number/numbers you've added.
How To Remove/Delete Numbers on Airtel Family And Friends
If you want to remove/delete a number from your Airtel Family and Friends 2020 list, simply dial  *311*3*NUMBER# e.g if you want to remove 08021234567 from your Family and Friends List, dial *311*3*08021234567# and Airtel will send you a message that a number has been removed from your Airtel Family and Friends list.
Read: Airtel Tariff Plan 2020 – List of Tariff Plans and Price
How to View Registered Numbers In AFAF
If you want to know the numbers that you have in your Airtel Family And Friends list, simply dial *311*4# (airtel faf activation code). All the numbers in your airtel family and friends 2020 list will be shown to you.
Note that these codes (*141*2*Number#; *141*3*Number#; *141*5#) were formally used as airtel faf activation, but are now obsolete and does not work anymore for adding, removing and checking the list of FAF respectively
Airtel Family and Friends Call Rates
The tariffs for the FAF service are uniform across all tariff plans:
Peak Periods (6am – 9:59pm): 25 Kobo per second.
Off Peak Periods (10pm – 5:59pm): 21 Kobo per second
When using SmartConnect bonus: 40 kobo per second, irrespective of the time of the day you make the call.
Do you still have any further question ? feel free to use the comment section and we will get back to you as soon as practicable. And it this article was helpful to you, then use the share button to share it with your friends on Facebook and other social media. Thanks for doing that.
Airtel Nigeria Family and Friends Activation Code
To enjoy the Airtel family and friends plan, this is how to add family and friends on Airtel; that can be done by using this registration code:
*311*2*NUMBER#
For example, if you want to add this number '08123456789' to the Airtel family and friend plan. Then you will have to dial *311*08123456789#. This will allow you to benefit immensely from a cheaper call rate when calling that number.
After dialing the 'activation code', a popup message will be displayed on your phone to inform you that the process has been successful.
The limit for adding numbers into the Airtel Nigeria family and friends plan is five phone numbers.
Comments
comments