FarmCrowdy Profile – About, Employees, Net Worth, Founders, And All You Need To Know
FarmCrowdy Profile – About, Employees, Net Worth, Founders, And All You Need To Know
Introduction
FarmCrowdy is the first Nigerian Agricultural technology company there is. They specialize in linking farmers up with other farmers, providing them with the necessary seeds, knowledge, and technology to run their farms.
Related: Piggyvest Profile – About, Employees, Net Worth, Founders, And All You Need To Know
About
FarmCrowdy Agritech Company was founded by Onyeka Akumah. While at a technology conference in Abuja, Nigeria, he found out how technology was changing the face of the sheep farming business in China. This inspired him and gave birth to the idea of FarmCrowdy. At that point, however, there was no solid plan.
Onyeka Akumah went on to research the agriculture business in Nigeria for several months. His findings worried him.  He realized that farmers faced three major problems among others. Some of their major challenges were
Access to the market
Input and
Technical-know-how.
This led him to come up with a crowdfunding model. He eventually resorted to a partnership model. With this model, everyone would be given an opportunity to participate in agriculture.
Onyeka Akumah realized he could not do this alone. He needed a team to help him achieve his brainchild and help him build it into an empire. Before he chose his co-founders, he bore three factors in mind. The first was similar values, then contribution, and third, commitment. He was not willing to accept any less or lower his standards.
The quest for building a team kicked off with Ifeanyi Anazodo, who is now the current Vice President, Data Intelligence in FarmCrowdy. Ifeanyi Anazodo worked previously with Etisalat Nigeria as a brand consultant.
The next person brought on board was Akindele Philips. He has a background in accounting and is the current Chief Financial Officer for FarmCrowdy.
Related: Paystack Profile – About, Employees, Net Worth, Founders, And All You Need To Know
Afterward, Christopher Abidun joined the ship as the Chief Technology Officer. This happened in February 2016. Christopher Abidun was Onyeka Akumah's longtime friend and had taught him Java Programming previously.
African Farmer Mogaji joined the team in May 2016. He was first a consultant then later became the Chief Operating Officer in July 2016. He eventually resigned from the company in February 2017 to focus on working with one of the government ministries. He is still a stakeholder of FarmCrowdy.
Temitope Omotolani was the final person to join the founding team in August 2016. She brought her hands-on farming experience and in-depth knowledge of the agriculture business to the game. She eventually became the Chief Operations Officer.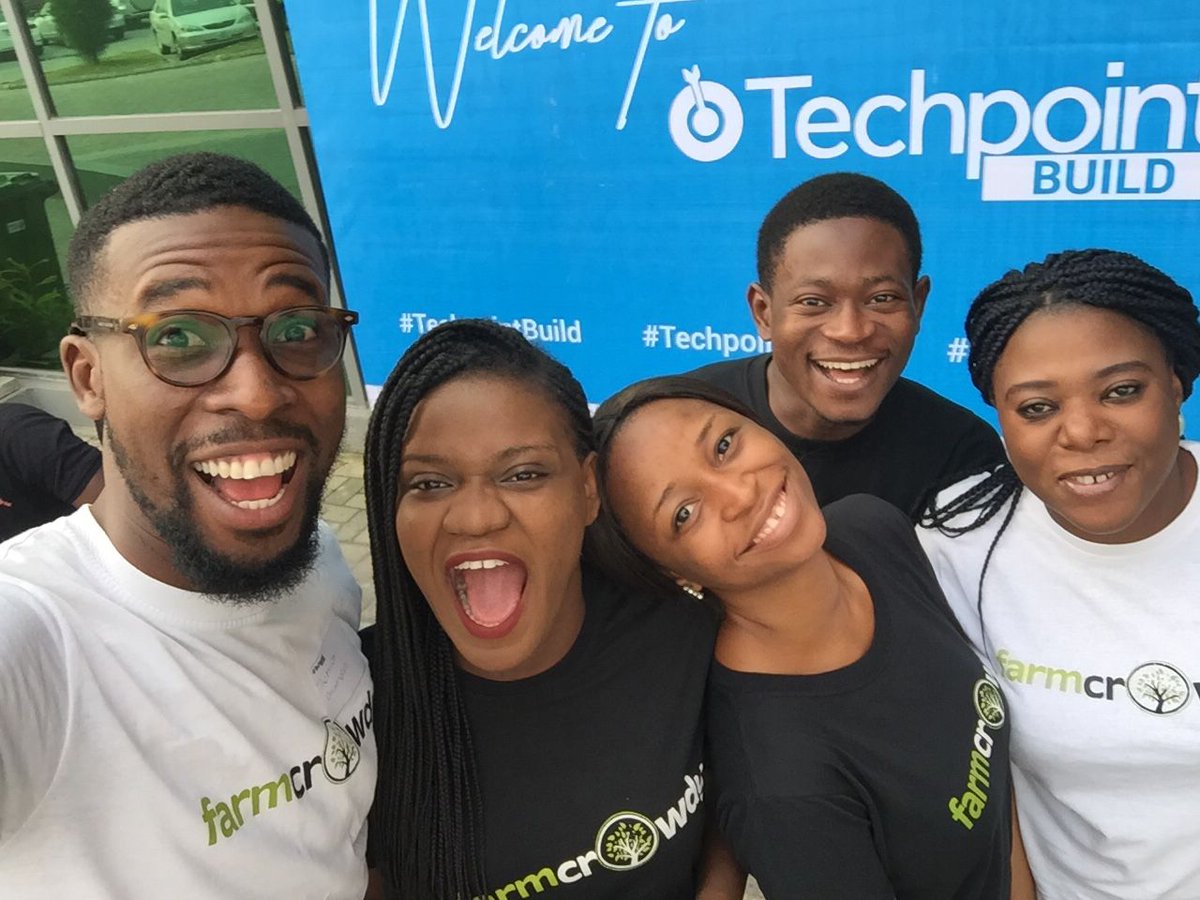 Trouble came for the company when more than half of their first poultry farm birds were lost in transit due to heat. There were also other distressing events with their first tomato farm. This made the cultivating, harvesting, and preparing of the tomatoes in time for the off-takers impossible. These events and others had to make the co-founders rethink the whole project.
Farmcrowdy has since become Nigeria's foremost leading agri-tech company. They have empowered over 12,000 farmers cutting across 13 states in Nigeria. They have reared almost 2,000,000 birds, cultivated 16,000+ acres of farmland with over 35,000 farm units sold.
Farmcrowdy Group was born on the 21st of March with the goal of building agri-tech solutions that will enable the achievement of food security in Africa.  Currently, they are comprised of subsidiaries including Farmcrowdy and Farmgate Africa.
Related: Flutterwave Profile – About, Employees, Net Worth, Founders, And All You Need To Know
Location
2, Opeyemisi Bamidele Crescent, Off Freedom Way, Ikate, Lekki Phase 1, Lagos Nigeria.
Executives
Onyeka Akumah – Chief Executive Officer and Founder
Jimoh Maiyegun – Chief Technical Officer and Co-founder
Akindele Philips – Co-founder and Chief Financial Officer
Christopher Abiodu – Co-Founder and Technology
Tope Omotolani – Co-founder and Chief Operations Officer
Ifeanyi Anazodo – Co-founder
Oluwafemi Owoeye- Senior Finance Officer
Tomiwa Ogunmodede – Head Program and Product Development
Employees
FarmCrowdy Agritech Company has over 42 individuals under their employ.
Salaries
The average salary at FarmCrowdy is about thirty-two thousand Naira.
Funding rounds
FarmCrowdy Agritech Company underwent their Pre-Seed funding round on the 10th of July 2017 with two investors. The amount realized was not disclosed.
On the 1st of August, they underwent the convertible note with one investor and realized a hundred thousand dollars ($100,000).
Their Seed funding round was on the 18th of December 2017, with ten investors and they realized one million dollars ($1,000,000).
Their Grant funding round happened on the 26th of February 2018. The investor was GSMA Ecosystem Accelerator. They realized three hundred and twenty-five thousand dollars ($325,000).
The Seed round happened on the 21st of March 2019, with three investors and one million dollars was raised.
Investors
Some of the investors in FarmCrowdy includes Ajayi Solutions, Techstars, Cox Enterprises, GSMA Ecosystem Accelerator, Josephine Group, Social Capital, FC Agro Allied SPV, Michael Cohn, Hallett Capital and much more.
Net Worth
The exact net worth of FarmCrowdy is not known but there are speculations that they could be up to a million dollars.
More information
Today, FarmCrowdy Agritech company has grown to a team of over fifty-five individuals. These individuals have worked with over 25,000 rural farmers across the 16 states in Nigeria. Some of the states include Kano, Niger, Nasarrawa, Ogun, Oyo, Osun, Edo, Akwa-Ibom, Lagos, Plateau, Kaduna, Adamawa, Niger, Kwara, Abuja, Sokoto, and Benue.
The Vice President of Nigeria, Professor Yemi Osinbajo, described FarmCrowdy Agritech Company as the company creating the new wealth in Agriculture. They were also later honored with the National Productivity Order of Merit by the President of Nigeria, Muhammadu Buhari. This happened in August 2019. The Oyo State government has also announced a partnership with Farmcrowdy to onboard 50,000 rural farmers in Oyo State.
Related: Interswitch Profile – About, Employees, Net Worth, Founders, And All You Need To Know
Conclusion
It is rather commendable that no sector is left fallow, growth-wise. The Nigerian agricultural sector has been long due for a revamp and for attention to be given to it. FarmCrowdy Agritech Company has picked up the gauntlet and has done an amazing job while at it.
It has not been so rosy for the Agritech company, however, as their Chief Executive Officer, Onyeka Akumah revealed in an interview that they record huge annual losses, in trillions of naira. This can be said to be due to a lot of factors, including the insecurity in the country.
Comments
comments
What is Cryptocurrency And How Does It Work? 
Cryptocurrencies are decentralized digital assets that operate on blockchain technology that in turn operates by storing a ledger of every transaction on all nodes powering the blockchain. 
In layman's terms, blockchain technology is like a record keeper, it collects data (in blocks) and links one block of data to another, forming a chain. The data on the blockchain is open for all to see and cannot be easily altered. Blockchain technology can be used for a variety of use cases besides cryptocurrency, ranging from voting to crowdfunding, keeping health records, etc.
Using Bitcoin as an example, nodes are computers connected to the network to mine Bitcoin,  – this collection of independent nodes working together is what makes the network decentralized.
The decentralized nature of cryptocurrency is down to the creators recognizing flaws in traditional banking & financial systems like governments and financial institutions acting only in their best interests and not in the best interest of the common man, leading Satoshi Nakamoto (the creator of bitcoin and blockchain technology) to take steps to rectify that.
Related: What are NFTs?
To make cryptocurrency transactions, you will need to have a set of both public and private keys that will act as passwords protecting your crypto wallet. 
The Public key is connected to your wallet address, allowing you to share the address with others to receive cryptocurrency, while the private key is known to only you and is what you will use to approve outgoing crypto transactions from your wallet. 
Trading Cryptocurrency on Obiex
With the popularity of cryptocurrency trading currently at an all-time high, the biggest challenge for many rookie traders is selecting which cryptocurrency exchange to trade on.
If you fall in this category, the immediate priority should be finding an exchange that allows rookie traders to make trades easily, doesn't charge extra fees and is completely secure. That exchange is Obiex Finance.
In this guide, you will be shown how to navigate the Obiex mobile app & website easily and what to do to get started with making cryptocurrency trades. 
Getting started with Obiex Finance
Obiex Finance is a digital asset exchange and financial technology (Fintech) platform that gives its users the ability to easily execute cryptocurrency trades from anywhere regardless of their skill level.
Their commitment to ensuring that users get the best experience is shown in how they allow instant swaps from volatile coins like Bitcoin to stable coins like USDT, and vice versa, without confirmations. In a market where the value of crypto can fluctuate wildly, this feature is especially valuable as it allows users to seamlessly switch between making profits to saving those profits in a more stable currency before the value drops.  
To create an Obiex Finance account, simply head over to their homepage, click on "sign up", fill in the required fields and verify your email address. After that, create wallet addresses for your crypto assets and you're ready to start trading!
The cryptocurrency available for trading on the Obiex Finance platform are: Bitcoin (BTC), Ethereum (ETH), Binance Coin (BNB), Polygon (MATIC), Dogecoin (DOGE), Tether (USDT), Binance USD (BUSD), and USD Coin (USDC).
Getting Started with Cryptocurrency trading
After creating your Obiex account, you need to follow these simple steps:
   

Have a Trading Strategy:

Trading cryptocurrency without having a strategy in place is the easiest way to lose your money. You will need to research the

various crypto trading strategies

thoroughly and choose the one that best suits your needs and temperament. For example, if you're a patient person who is content to make smaller, safer trades over a long period of time instead of making riskier trades, then

scalp trading

is the best trading strategy for you. There are also other crypto trading strategies such as Swing trading, position trading, Arbitrage, dollar cost averaging etc.

   

Pick the cryptocurrency you'd like to trade:

There are several cryptocurrencies available on Obiex Finance such as Bitcoin, Ethereum, Binance Coin, Tether etc. Selecting which cryptocurrency to trade is usually down to making a choice; whether to stick with the safer, more established cryptocurrencies like Bitcoin or to go with the more volatile coins that have a high upside and an equally high-risk factor like the Dogecoin which can move in either direction based on what Elon Musk tweets.
It is also important to note that when you pick a cryptocurrency to trade, it would be wise to ensure that the cryptocurrency matches the strategy you pick. For example, if your preferred strategy is patient scalp trading, then investing in volatile coins that have a high upside but carry a lot of risk is not the wisest move. 
To swap crypto on Obiex Finance, add the wallet of crypto assets you'd like to swap, send the crypto to the wallet you just created, navigate to the 'swap' option on your dashboard, and select the coins you'd like to swap. You will receive the swapped coin in your wallet balance immediately without waiting for network confirmations.
   

Securely store your cryptocurrency:

The same way you'd protect your goods and profits if you had a physical store is the same way you need to protect your cryptocurrency so it doesn't fall into the wrong hands.
You can store your crypto securely on your Obiex wallet but if you want an alternative, physical wallets are also an option. Physical wallets allow you to store your crypto in secure hardware, offline storage device reducing the likelihood of online hackers stealing your hard-earned crypto. This is a list of reliable physical wallets you can use.
Conclusion
If you're a newbie to crypto trading, the keyword is patience. Taking the time to properly understand the market before making trades will stand you in good stead. While risks occasionally pay off, a patient, long-term strategy is required to make consistent profits. For more information about trading as a newbie, you can check this out to understand unfamiliar crypto terms and to learn more about spot trading and futures.
Obiex Frequently Asked Questions | Obiex FAQs
Will I be charged a fee when I swap coins on Obiex?

 
No you won't. While other crypto exchanges charge for trades and require confirmations to execute swaps, Obiex allows you to make free, instantaneous swaps without the delay that comes with waiting for confirmation. This also helps you avoid unnecessary losses.
Can I trade crypto on Obiex if I don't know much about crypto?

 
Yes, you can! The Obiex Finance platform allows both rookie and experienced traders to make easy, safe trades regardless of trading experience.
Can I send and receive crypto easily?

 
Yes, you can. To send crypto, you will use your private key to execute outgoing trades and your public key/your wallet address to receive incoming trades. You can also send and receive crypto using just Obiex usernames.
Why do I need to swap coins? 
Swapping coins allows you to either acquire a coin you think is (currently) more valuable than a coin you have a lot of. You can also use swaps to ensure that your funds are invested in a more secure coin like USDT if you feel the volatile coin you're holding is about to go on a bear run and lose value.
Do I get a referral bonus when I invite friends to use Obiex? 
Yes, Obiex has a referral campaign that rewards users that invite their friends and family to trade the minimum of $10 on Obiex.
Comments
comments
NairaMetrics Profile – About, Employees, Net Worth, Founders, And All You Need To Know
Sahara Reporters Profile – About, Employees, Net Worth, Founders, And All You Need To Know