Full Biography And Net Worth Of Simi
Full Biography And Net Worth Of Simi
Simi is a popular Nigerian songwriter, singer, entertainer, and actress. She is loved for her sonorous and soothing voice. Her recent song Duduke sparked a challenge across social media and kept Nigerians busy during the lockdown. The biography of Simi is an enthralling one and will keep you glued to your seat.
Related: Full Biography and Net worth of Tiwa Savage
Birth and early life
The biography of Simi begins from her birth. She was born and christened Simisola Ogunleye on the 19th of April 1988. She was born in Ojuelegba, a suburb in Surulere, Lagos Nigeria. She is the last of four children and her parents separated after she turned nine. She was a tomboy as a child. Simi attended Stars International College, a secondary school in Ikorodu, Lagos State. She graduated from Covenant University with a degree in Mass Communication.
Personal life
Simi got married to the love of her life, Adekunle Gold on the 9th of January 2019. Prior to their marriage, they had been dating for five years and kept their relationship off social media. On the 30th of May 2020, Simi and Adekunle welcomed their first child, Adejare.
Net worth
Simi is estimated to be worth about $1 million. Her source of wealth is her music and career as a sound engineer.
Related: Full Biography and Net worth of Funke Akindele
Career
The biography of Simi includes her early sojourn into music. She grew up as a member of her local church choir and wrote her first song at age ten. Her move into professional music, began in the year 2008 after she released her debut studio album, Ogaju. It consisted of a number of songs among which were Iya Temi, Ara ile, and others. The album was produced by Sam Klef.
Simi released her EP, Restless, in January 2014. It contained 5 tracks. The EP mostly contained covers of songs by popular musicians like Rihanna's Man Down and Adele's Set Fire To The Rain. The EP paved a way for her to get signed with X3M Music Record Label.
Her career continued to blossom, and in 2014, on the 9th of January, she released two singles which were Tiff and E No Go Funny. The songs brought her to the limelight and Tiff was nominated for Best Alternative Song at The Headies of 2015. On the 30th of August 2015, Simi released the video for her song Tiff. It was directed by Josh Clarke.
Related: Full Biography and Net worth of Toke Makinwa
The year 2015, started bright and clear for Simi. She won the award for Most Promising Act to Watch at the Nigeria Entertainment Awards, 2015 edition.
In 2016, she released her song, Jamb Question. The song caused her to be listed as one of the artistes to watch out for in 2016 by NotJustOk. Falz, the artist was featured in the remix of Jamb Question.
Simi, on the 14th of February 2016, released her new song, Love Don't Care. It is a love ballad, produced by Oscar Heman Ackah. The theme of the song was tribalism and discrimination in our country Nigeria.
She subsequently released the music video, directed by Clarence Peters. Simi, in collaboration with Falz, on the 27th of October, released another EP titled, Chemistry. The year 2016, also saw Simi being nominated for several prizes.
On the 1st of September 2017, Simi released the tracklisting for her new album, Simisola. Simisola contained twelve tracks, among which are Smile For Me and Joromi.
Simi released her third studio album, Omo Charlie Champagne, Vol. 1 on the 19th of April 2019. This happened to be her birthday. The album was a mixture of Afro-fusion, Afrosoul, Afropop, and a mixture of so many other genres. The album contains 13 tracks and has vocals from Maleek Berry, Patoranking, Falz, and her husband, Adekunle Gold.
The album, Omo Charlie Champagne Vol. 1, was dedicated to Simi's father, Charles Oladele Ogunleye, who died in the year 2014.
X3M music, in May 2019, announced the expiration of their contract with Simi, and her departure thereafter. The contract was not renewed and in June 2019, Simi launched her record label, Studio Brat.
Other involvements.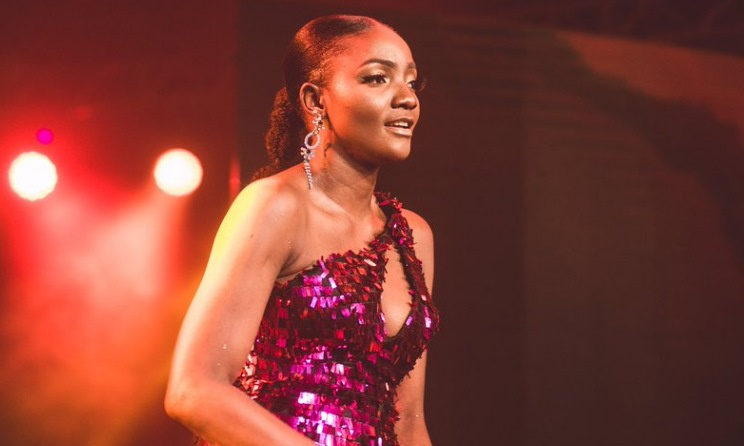 The biography of Simi will also contain her other involvements. Besides being a singer and songwriter, Simi is also a sound engineer. She got credits for mastering Adekunle Gold's debut studio album, Gold. It was released in July 2016. Her style is mostly R&B, soul, and Hip-hop.
Related: Full Biography and Net worth of Ibukun Awosika
Simi made her acting debut in Kunle Afolayans movie, Mokalik.
Discography
This contains a list of Simi's songs.
Her studio albums include
Ogaju released in 2008.
Chemistry (with Falz) released in 2016
Simisola released in 2017
Omo Charlie Champagne, Vol. 1 released in 2019.
Some of her singles as a lead artist includes
Ara Ile released in 2008 and belonging to the album Ogaju.
Emi L'Onijo, Take a Chance, and Chocolate Brown were all non-album singles released in 2012.
"Don't Judge Me, Bibanke, Marvin's Room were covers released in 2013. Tiff and E no go funny were released in 2014. Jamb Question, belonging to the Simisola album, Jamb Question" (Remix) (featuring Falz) a non-album single and Open and Close were released in 2015. Love Don't Care, was released in 2016, Smile for Me, and Joromi all belonged to Simisola album.
Other songs include I Dun Care and Lovin' released in 2018, and Ayo released in 2019 all belonging to the album Omo Charlie Champagne, Vol. 1. In 2020, she released Duduke and There For You which are both non-album singles.
Related: Full Biography and Net worth of Omah Lay
Awards and nominations
The biography of Simi will also contain the awards she has gotten.
In 2015, she won the Nigeria Entertainment Awards, Most Promising Act to Watch and City People Entertainment Awards, Most Promising Act of The Year. The Nigerian Music Video Awards, nominated her song, Tiff for Best RnB Video and Music Video of The Year. Jamb Question was also nominated for Best Soft Rock/Alternative Video.
In the same year, her song, Tiff, was nominated at the Headies for Best Alternative Song, and she was nominated for Best Vocal Performance (Female).
2016 also came with multiple awards and nominations. She won the City People Entertainment Awards, Female Artiste of the Year, and Nigerian Teen Choice Awards, Choice Upcoming Female Artist. She was nominated for MTV African Music Awards, Best Breakthrough Act.
At the Headies of the same year, her song, Love Don't Care, was nominated for Best Recording of the Year and Best R&B Single. Her song, Soldier featuring Falz, won Best Collaboration. She also bagged the award for Best Vocal Performance (Female).
Related: Full Biography and Net worth of Chimamanda Adichie
In 2017, she was nominated for Nigeria Entertainment Awards, Best Afropop Female Artist, and her album, Chemistry with Falz, won Best Album. She won AFRIMA Awards, Songwriter of the Year, and was nominated for Soundcity MVP Awards Festivals, Song of the Year, Best Female MVP, and Best Pop.
In the year 2018, at the Headies, her song, Joromi, won the Best Recording Of The Year, category, her song Smile For Me, won the Best R&B Single category, and her album, Simisola, won the Album of The Year category.
She was also nominated for Artiste of the Year at the Headies. Her song, Gone For Good was nominated for Best Vocal Performance (female) and Simisola, was nominated for Best R&B/Pop album. In the same year, she won Future Awards Africa, Prize for Music.
Comments
comments
6 Tips for Small Businesses Before Making a Business Partnership
The next line of action an entrepreneur especially someone running a small business considers to boost his/her business is partnership. This is because the main goal of every business is to make money and business partnership can offer a great deal of that.
Starting a business gives the business owner the power to choose the people he/she is willing to work with. Making the right business partnership decisions has the potential of escalating the profits and scope of a business almost overnight. However, partnering with individuals, brands or companies without the proper guide or information do not guarantee 100% profit.
There are things you should take into consideration before you go into business partnership (s). These things can make or break your business hence it is important to take note of them ahead of time.
I implore you to take your time and consider the points I am about to share with you if you truly value your business and intend to maximize your business partnership(s) and get full returns on your investment.
Useful Tips Small Businesses Should Consider Before Going Into A Business Partnership
Be Clears With Your Motive(s).
When you are starting a business partnership, it is important that you have thorough understanding of your reasons for going into the business.
You should clearly define your motivation for the business venture which is to say what you hope to get out of the relationship. There should be a clear reason behind your quest for business partnership instead of running the business alone. Is it to increase your business' income, to add more value to your products or to reach out to a greater audience?
You must have a firm reason behind your need for business partnership and why it is necessary. Be clear about your motivations or intention behind the partnership and make it clear to your prospective business partner. This will help to steer your small business partnership in the same direction.
Choose A Partner With Complementary Skills.
You can't have a partner that has the same strength as you. You have to double the power of your startup team right off the bat. For example, a shy tech expert who wants to start an Internet business would do well to find a partner with sales, marketing, and people skills. This way, both partners can focus on doing what they enjoy and are good at. So, partner someone, a company or a group with skills that are complementary to yours.
Discuss the Long-Term Vision of the Business With Your Partner.
You have found a complementary partner, what next? Strategic business partnerships are in many ways like a marriage, and both parties must be committed to the growth and long-term development if it's going to work. From the onset of the partnership, express your expectations and sign contracts with one another so that trust is established.
Define The Job Roles Of Each Partner.
Having strategized and established a vision for the business, you proceed to discuss roles differentiations between you and your business partner(s). That is, what roles will each partner play? This is a keen move to eliminate any confusion on what each partner's duties will be.
A business partnership is bound to fall apart soon after it is formed when one partner believes the other should be performing certain tasks other than the ones he or she is performing.
To avoid this confusion, prepare a written document with your partner stating the roles each individual plays so it can always be referred to when the need arises.
Devise A Way to Measure Each Partner's Contributions.
There will be times when partnerships experience stress and at that time one party may be tempted to assume that the other party is not pulling in the much-needed weight. To avoid mounting resentment, define clear and objective performance indicators from the beginning to measure each of your contributions to the business's success. This way, if one or the other of you fails to meet up with his/her end, you can have a level-headed conversation based on facts instead of feelings and thoughts.
Make Provision For The Demise/Exit of a Partner.
What happens if one partner is deceased or wants to leave the partnership? To manage these situations you need a buy/sell agreement document.  This establishes a method by which the partnership interest can be valued and the interest purchased either by the partnership or individual partners. In addition, it will do you extremely good to develop an exit strategy. Like a prenuptial agreement, an exit strategy should clarify what will happen to the business's real and intellectual properties should the partnership come to dissolution.
Conclusion
Great businesses are founded on great partnerships. But great businesses can also be destroyed by bad partnerships. Small business partnerships can be harmonious, mutually beneficial relationships that help propel a business forward. You should endeavor to choose a business partner just as carefully as you'd choose a romantic partner. This could be someone you spend the rest of your life working with, so don't go into it loosely.
Have you analyzed these tips? If you have carefully done that, you can finally say "I do" to that business partnership and go ahead to execute it.
Comments
comments
4 Reasons Why Your Website Is Not Making Money In Nigeria
With the increase in online transactions in Nigeria today and increased internet coverage and usage, it is expected that the average website in Nigeria should make a sizeable amount of money daily.
However, this is not so.
Most websites these days still operate like traditional offline businesses with a beggary look and operation. Rather than serve as a cash-spitting machine for the owners, most websites in Nigeria take more money from the business than they give. This makes it appear like owning and operating a website in Nigeria is unprofitable and mediocre endeavor. It is not supposed to be this way.
If you are an entrepreneur in Nigeria with a website which is not making money or as much money as it should, this article is for you. Read this to the end to find out the 4 reasons why your website is not making money in Nigeria and how to fix it.
The 4 Key Reasons Why Your Website Is Not Making Money in Nigeria as It Should and How to Reverse This
1.     Your Homepage is Not Friendly, Lacks Call-To-Action (CTA) Features
The reason why most websites don't make sales (as much as they should) is the lack of an attractive, enticing, welcoming, and customer-friendly homepage. If your website cannot ignite a visitors interest to do business with you (on the first, second or third visit), don't expect to make (much) sales from it. Your website can bring you money if you can influence your visitors buying decisions as soon as they land on your website.
Even if visitors to your site don't buy on the first visit, at least your homepage should have an offer (i.e. a lead magnet) to wet their appetite and convert them into subscribers who may likely buy in the future. This is how most smart businesses make money from their websites. If your website is not designed this way, the chances of you making money from it are very slim.
To fix this, kindly redesign your homepage with clear Call-To-Action (CTA) button or form with an offer to collect visitors information for (email) marketing and re-marketing. Doing these will greatly improve sales and income from your website in a short time.
2.     You Are Not Selling Anything!
Damn it! How can you expect money from your website when there is nothing on it for someone to buy? When it is not clear that you are selling, how and why do you want people to give you money? When you are not selling anything on your website, it suggests that you don't need money and people won't force money on you.
So, if you need money from your website, sell something on it. In fact, sell things! You don't have to create everything you sell. You can sell other people's products and earn commissions ding so if your product is not yet ready. This is called affiliate marketing. You may incorporate an ecommerce section on your website to sell a physical or electronically deliverable product (related to) on your niche.
3.     You Are Promoting Too Many Things Too Soon
A website may be well-designed but lacks an orderly sales sequence. This will leave visitors to your website confused and overwhelmed. You can't expect a new visitor to your website to buy all your products at once on one page, in one day.
Who does that?!
This is the bad marketing practice. Doing this makes the visitor a victim of offers' overload and he/she may leave angrily without making a purchase.
Rather than commit this marketing felony on your website, place single and unique outstanding Call-To-Action messages on your website pages. This will help your visitors to make a quick buying decision.
4.     You Are Selling Features Not Solutions (Benefits)
An entrepreneur's primary responsibility is to sell benefits not features. However, many websites waste too much time on preaching about the features of their products and pay little to no time talking of the benefits.
That's stupidity!
No one wants to buy your shiny shoes because it's shiny without solving a peculiar need. But anyone will buy your shiny shoes if he/she perceives the benefits it has compared to other shoes.
So, sell solutions not features; let the visitor know why he/she should buy what you sell and why that should be done immediately. You may include urgency in your sales' copies to incentivize your prospects to take prompt action. Beside doing so in writing, you may go a step further to place a timer on the offer's page to boost urgency in the prospect.
That's how smart website owners make money from their websites.
So…
The question now is, "are you smart enough to take your piece of the cake from the market?"
Or, are you still doing things the old-fashioned way and expect your website to make sales without positioning it to do so?
The reason why your website is not making money as it should is because you have been doing so many things wrongly with or without you knowing it.
Now you know; the ball is in your court. Go back and apply the pieces of advice I just shared with you in this article to your website and watch it make you money in a matter of days.
Comments
comments
4 Reasons To Use Email Marketing in Nigeria for Your Business
Are you a business owner in Nigeria looking for an effective and low-cost means of communicating with your customers and clientele? Try Email Marketing! Email Marketing in Nigeria can allow you to sell your product or service to your customers through direct marketing.
Also, with Email Marketing you can inform or remind your prospects (i.e. subscriber) of the availably of a (new) stock. The main advantage of Email marketing over other forms of marketing like social media marketing is that it drives sales without having to spending so much after the initial setup fees and maintenance fees.
To profit from Email Marketing in Nigeria, you need to first of all build an email list of your customers. This will help you gain your customer's unique information – what they like to buy, how often they buy, when they like to buy and how likely they are to buy what you have.
Besides, with proper email marketing, you can gain information on your customer's purchasing strength, their demographic information, tastes and dislikes. You will use this information to sell to your customers whenever there is the need to do so.
This article explains in detail the reasons for using Email Marketing in Nigeria.
Why You Need Email Marketing in Nigeria for your Business
1.     Email Marketing Can Help You To Identify Your Customers Or Prospects Unique Needs
With an email list of your customers, you can determine your customer's preferences and specific by sending them an email requesting for feedback. Based on the feedback, you can know if the product you have in mind to sell will actually sell. Email marketing is an information providing tool that decides the success or failure of your next product. The beautiful part is that you do this at almost no advertising cost to you besides the initial and recurring maintenance fees.
2.     Having An Email List Reduces The Cost Of Your Marketing And Business Operation
I have mentioned twice in this article that email marketing is comparatively cheaper than other forms of marketing like digital marketing. This is because it is true. Besides, it is always available to you to use compared with hiring an employee or office assistant to run your marketing.
While an employee will fall sick, need a break for holidays, demand employee bonus or insurance, Email marketing does not. It is always there for you at no additional avoidable expenses. So, if you are looking for a way to reduce your cost of marketing and do away with some of the troubles of human labour, try Email marketing.
3.     You Can Sell/Rent Your Email List
Leave your local business for a moment and think global. Do you know that individuals and big corporations are currently looking for businesses with harvestable PDI (public domain information to work with? Yes, this is true. Email marketing is one of the most-sought after PDI tools. If you have a list of thousands or millions of targeted buyers on a given niche which investors are willing to buy, you can sell (or rent) this and make huge profits doing so.
4.     Email Marketing Can Give You International Connections.
You can connect with multinationals and internationals globally and expand your business reach seamlessly. Multinationals are looking for effective email lists to source domain information about customers whenever they are entering a new business terrain. They are always glad to connect and pay a juicy sum to whoever has a promising email list. The question is, will that be you?
5.     Effective Email Marketing Can Help You to Make Quality Business Decision Quickly
Why I say it helps you to make the best decision on time is that with your email list you can get buyer's feedback and leverage this anytime of the day. This is a follow-up to what the first point I mentioned which discussed the customer information acquisition aspect of email marketing. This one discusses one of the key benefits which is the ability to make quick business decisions based on the information you gathered from your customers in your list.
Knowing what informs your (potential) customer's choices and why they purchase more of a particular product is vital to a business's growth. But that's not the best part. The best part is having this information almost immediately to make the best decision quickly!
Growth in business is a function of quality, timely decisions. The more quality decisions a business makes and on time, the more it is likely to experience tremendous growth. This is made possible by email marketing.
Some of the outcomes of prompt business decisions which email marketing in Nigeria can give you are:
Improvement in your business's overall manufacturing strategy
Improvement in the production capacity (input and output) of your business.
Reduction of your business's turnover time.
Determination of a better profitability margin for your business.
The use of better machinery, tools, advertorial, etc. in your business
Conclusion
Email marketing in Nigeria has many benefits and this article has explained them. If you want to give and gain more from your customers and prospects, then go for Email marketing. It always helps. Yes, it does.
Comments
comments